Hello!
A month or so ago, I signed up for a Valentine gift swap that was being hosted by a couple blogs I read regularly. I did the
Christmas Ornament Swap
and really enjoyed getting to know a new blogger and loved the stuff she sent. So when I saw
this
blogging party on Lauren's blog I immediately signed up!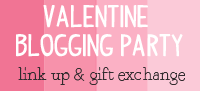 I was paired up with Sybil @
Peace It All Together
. So I stalked her blog and sent her some fun stuff to brighten her day! I am a dork and forgot to take a picture of what I sent her. I'm sure she will do her own post and show what I sent. So check out her blog.
But below is what she sent me!
Super cute packaging. Loved the wrapping!
She sent me a sweet card and a adorable mug and hot chocolate from Trader Joe's. Well it is actually Sipping Chocolate. Very fancy and British. I may just bust it out during the next episode of Downton Abbey.
I loved this swap. I love the surprise of what might be sent my way!
I also recently got another
bluum
box in the mail. They have changed their program a little bit and are tailoring more to your child's age. So we got the Toddler box. I have it set to Avery's age so these are the products we received.
Eco-Friendly bubble bath, toothpaste and tootbrush. The girls love bubble baths so this will be fun to try and you can never have too many tooth brushes. Does anyone else's kids carry their toothbrushes around the house? I find them in the most random places.
The next two things were a bathtub book and scrubby frog loofah. I think I will slowly introduce these to bath time. They also give me a chance to get rid of some of the older gross toys we have.
I am happy with what we received and look forward to seeing what comes this month.